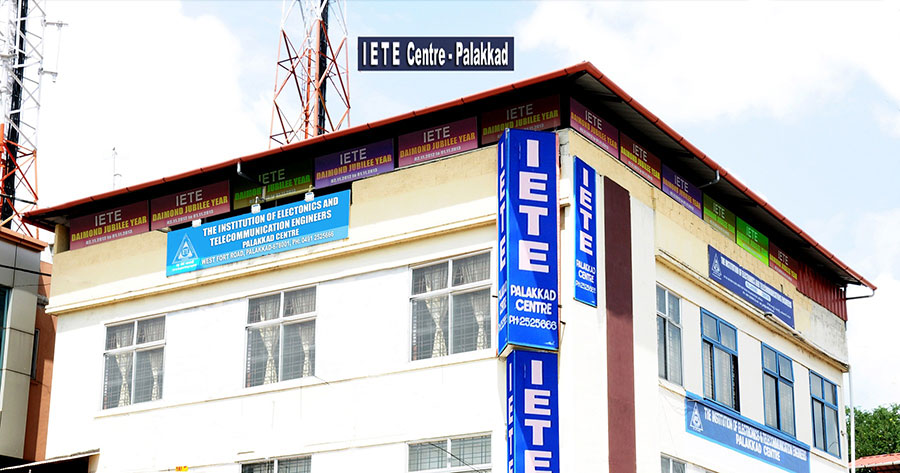 Glimpses from History of Palakkad Centre
The long cherished dream of IETE fraternity of Palakkad came true in 2003. The consolidated and whole hearted efforts of the Ad-hoc Committee formed on12-07-03 under the chairmanship of Sri. C K Haridas , Dy. G M Telecom (Retd ), Palakkad and the positive attitude of Kochi Centre resulted in the opening of Palakkad Sub-centre on 22-08-03 . The Sub-Centre started functioning at the house of the founder Chairman grew leaps and bounds within a very short period . Own premises, Exam Centre, ET and Computer Labs , IETE Academic centre , Up gradation to Centre Status in Jan 2011, PAC & Exam Centre at Kozhikode , PAC at Tirur , 8 ISFs and a vast student base are major achievements of the Centre. The Corporate members grew from 19 to 170 and student population from 100 to about 5000 in Malabar area. The Centre could bag Best Sub-Centre Awards twice during the period.
The sub-Centre was upgraded to Centre status on 28th Jan 2011. Within one year Kozhikode Sub-Centre was formed under Palakkad on 5th January 2011. Also the purchase of rights above terrace, Construction and inauguration of the Second Floor of IETE was completed in a record time of 3 months by the Building Monitoring Committee under the leadership of Sri. C K Haridas , Founder Chairman .
Activities
Centre is mainly focusing on the Student Front and the Spreading the message of IETE in Malabar area comprising of Palakkad, Malappuram, Kozhikode, Wynad, Kannur and Kasargode Districts of Kerala. On an average we are selling more than 800 Syllabi per annum. Also used to arrange Lectures, seminars and used to celebrate the Foundation Day , Students Day and jointly the world Telecom and Information Society Day with Institution of Engineers